Balloon Gas FAQs
How many balloons will the cylinders inflate?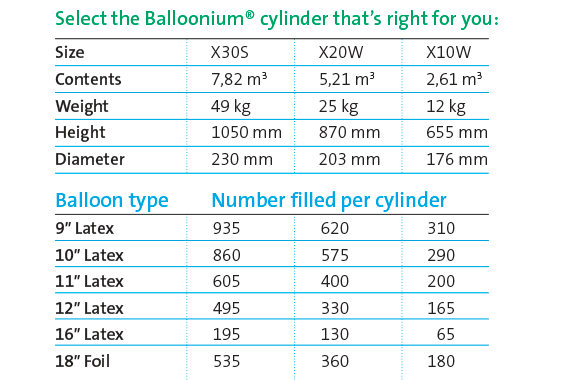 How long will the balloons stay afloat?
When correctly inflated helium grade latex balloons will float for approximately 8 to 10 hours.
Does Air Products sell balloons?
No, we supply helium and inflating equipment for balloons. Air Products recommends you use helium-grade latex balloons for best results.
How long before my event do I need to place an order with Air Products?
Depending on your location, we will need up to two weeks' notice to ensure the cylinders' availability. However, most orders will be processed in a few days only.
Can Air Products deliver Balloonium® cylinders to my home or business?
Customers who don't hold an account with Air Products can collect their Balloonium® cylinders at one of our agents. Click here to find your nearest agent, but please contact our Balloonium® cylinder team on 0800 389 0202 (UK) and 1800 995029 (RIO) for the account opening.