Product Safety
Essential to product safety is ensuring customers and others handling our products have complete safety information. To prepare this information, we have conducted product safety reviews for our commercial products. These reviews include characterizing the intrinsic environmental and health hazards of the products, examining product uses, and creating management actions to address potential concerns. Likewise, our phased process for new technology development has been used to identify and address potential risks of new products and applications.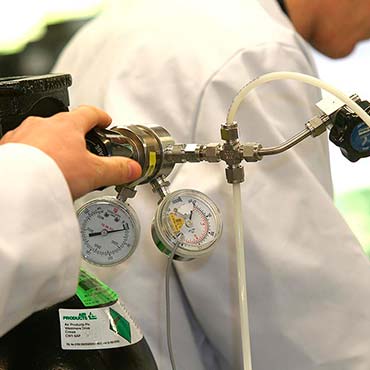 Our high volume liquid/bulk industrial gas products are non-toxic and can be handled safely with the appropriate procedures, equipment, and training. Less than one percent of company revenues are from sales of toxic substances.
Safety information from our product safety reviews is used in safety data sheets(SDS), which are a primary vehicle for communicating hazards information. We also share product hazards through labels that are compliant with the Globally Harmonized System (GHS), as well as internally-developed Safetygrams and customer training. Fines related to product safety in 2021 were less than $300 (USD).
REACH and Global Product Regulations
Air Products completed the registration for all required substances under the EU REACH (Registration, Evaluation and Authorization of Chemicals) legislation; ensured all products and key raw materials remained on the U.S. Toxic Substances Control Inventory (TSCA) as part of the recent modernization efforts by the U.S. EPA; and is registering required substances under Korea REACH and Taiwan REACH. We are also preparing for the new European Poison Control Center Notification requirements with pending deadlines of 2020 and 2021.
Learn more about Air Products' REACH Compliance Program.
GHS
We provide clear and easy to understand directions on the safe use and handling of our products, all of which comply with our own requirements and governmental regulations for hazard communication information, specifically data sheets and labels. We have completed the implementation of the Globally Harmonized System (GHS) to define, classify and consistently communicate chemical hazards and safety information.
Product Safety Training
Air Products offers safety training to our customers. The training topics vary from general compressed gases safety to product specific safety. This training can be arranged by contacting your sales representative. If you are not sure who your sales representative is, call our Customer Service Organization at 800-224-2724, and they will be glad to help you contact your representative.
Emergency Response System
For assistance involving Air Products' gases and equipment, 24 hours a day, 7 days a week:

800-523-9374 (Continental U.S. and Puerto Rico)
610-481-7711 (Other locations)