Cylinder FAQs
How should I store my cylinders?
Cylinders can be many different shapes and sizes and all cylinders have the potential to cause injury and damage if stored incorrectly. In addition, certain products (in particular oxygen and acetylene) should not be stored next to each other for safety reasons.
Please read guidelines for storing cylinders safely. For further advice and information, contact Air Products.
What are the most important points to be aware of when carrying cylinders?
Whenever you are carrying cylinders, please follow these simple but important guidelines:
Ensure the valve is closed
Disconnect any regulators and re-check the valve is closed
Always take care when lifting – cylinders are heavy
Please read our safety datasheet 'General Cylinder Handling'.
How do I transport cylinders safely?
Cylinders are very heavy and travel at the same speed as your vehicle. However, unlike your vehicle, they are not fitted with any brakes and unless they are adequately secured they can move forward under braking and cause severe damage.
There are some basic safety rules to follow:
No smoking
Check that cylinder valves are properly closed
If the cylinder is designed to have a cylinder valve cap, then one should be fitted
Ventilate your vehicle and keep windows open. Do not transport a cylinder in the car boot
Dismantle equipment such as regulators and hoses and torches
Ensure all cylinders are properly secured and prevented from moving during your journey
Go directly to your destination
Immediately unload when arriving at destination or if stopping for a longer time and store cylinders in a ventilated place
How does the ADR regulation and the 1000 points rule concern me?
Since January 1, 2007, there is a requirement for the driver of any type of vehicle, not only for those above 3.5 tonnes, carrying dangerous goods in excess of the threshold limits to be in possession of a vocational training certificate, or ADR Licence as it is better known.
If you wish to benefit from the exemption of some of the requirements of the ADR regulations (such as the obligation to have orange plates, high visibility vests and wheel chocks), you need to understand the 1000 points rule and the limited quantity thresholds. The full ADR regulations only apply if your cylinder load exceeds this quantity threshold.
Please download our guide on ADR and the 1000 point rule.
What equipment should I wear when handling cylinders?
When you handle cylinders we strongly recommend that you wear
safety glasses
safety shoes
ordinary work gloves
For cutting and welding operations you should use
welder's gloves
welder's helmet and goggles
leather sleeves
leather apron
and other standard protective equipment in accordance with the appropriate task risk assessment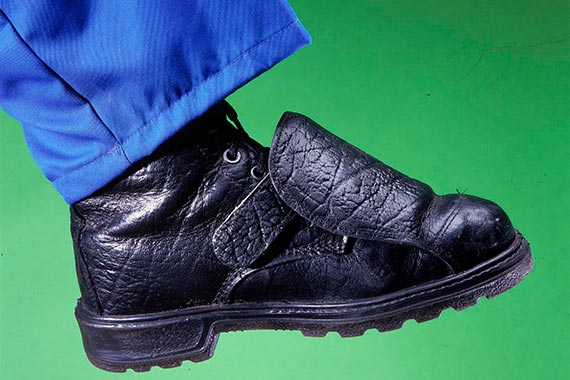 Safety Boot
Why should I avoid putting grease or oil on my cylinder?
Oil and grease are substances that are strictly forbidden in the gas industry as they may react when in contact with some gases like oxygen. Oxygen and other oxidant gases can react violently and produce a fire or an explosion when in contact with oils or grease. So lubrication of cylinders/packs is not allowed, in order to prevent highly risk potential accidents.
Air Products employees are trained on the incompatibility of oil or grease and other substances with the gases we produce.
What do I do if I think that my cylinder valve is leaking?
Close the cylinder valve
If the leak has stopped

Take cylinder out of service and clearly identify it
Contact us to arrange for the cylinder to be collected

If the cylinder is still leaking

Ventilate the room by opening doors and windows
Avoid ignition sources such as non-EX electrically operated fans
Evacuate the area within the vicinity of the cylinder
Contact the fire services and contact us
What do I do if my cylinder catches fire?
When dealing with cylinders in fires you should in all cases:
Raise the alarm and evacuate the area.
Contact the emergency services
Inform them of the number, type and location of the cylinders where possible.
If possible, cool the cylinders from a safe distance.
Advise Air Products on xxxxxxx
Do not approach cylinders that are involved in the fire until you have been advised by the emergency services that it is safe to do so.
Total Safety – Cylinders in Fires brochure
How do I know which is the best welding gas for my needs?
To find the optimum gas mixture for your welding process use our Gas Selector tool on the Welding and Cutting page.
How do I know which is the best MAP gas for my needs?
Use our Freshline® MAP Gas Selector on the MAP page to identify the ideal gas mixture for your food product.
How do I know which size of cylinder I need to inflate my party balloons?
Use our Balloonium® calculator on the Parties or Events page to identify the right cylinder for your needs.